It has been hard to tell our customers we are unable to make them a set of custom made trampoline safety pads, but thankfully we are still able to fill orders for our local customers.
Mr. K has an AMF rectangle trampoline frame. If you are familiar with this style trampoline frame you know that the top rails are rectangular and wide. For this reason Mr. K needed wider safety pads to help cover all the metal. We custom made him a set that were 17-inches wide and 1-inch thick. Each safety pad section is attached to the frame with narrow black webbing; each safety pad section simply ties to the frame. A complete set of safety pads has roughly 42-straps to help hold it all in place. As an extra bonus, the corners of the safety pad overlap giving double thickness in that area.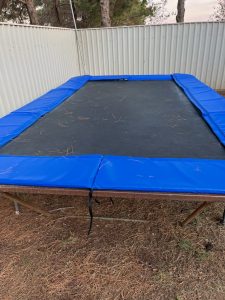 Thank you Mr. K for allowing us to make you a set if safety pads for your trampoline and thank you for sending a photo of how the safety pads look on your frame.
At this time, due to the high prices to ship safety pads, we are unable to offer safety pads to most customers. However, if you are local, in the Lubbock Texas area, please give us a call to have us make you a set of safety pads for your round, rectangle or octagon trampoline frame.